"Anatomy For Artists" Holiday Drawing Workshop 
If you've wanted an opportunity to learn how to draw the body and really make your figurative art shine, then this is the perfect workshop for you. No more wondering which bone is connected to what bone, Georgina will take you through basic human anatomy so you can draw figures with ease.
This workshop will cover topics including:
Major surface anatomy
General proportions
How to measure in order to draw from life
A step by step guide to drawing the human figure
Please note a partially clothed male model will be present during the afternoon session. Ensure you are comfortable with this before booking.
WHEN: Saturday 16th January
TIME: 10am – 3pm
AGES: Teens & Adults (Ages 16+)
COST: $117, includes basic drawing materials & handouts
"How To Paint Miniatures" Holiday Painting Workshop
The Gold Coast Art School is excited to host this special workshop: Introduction to Miniature Painting with Jason Clarke. If you're a fan of miniatures, and tabletop games such as Warhammer and D&D, then this is for you!
The world of miniatures has grown exponentially over the past 3 decades on an international level. What started out as tabletop war gaming has now branched out into major board games, role playing games, international painting competitions.
In this 1 day short course you will learn the skills and techniques that form the basics of miniature painting. This will include:
Tips and tricks used to build your minis
How to prime your miniature for painting
How to make your wet palette and why you should use one
How to mix colours and build contrast through highlight and shadow to create an effective colour scheme
WHEN: Friday 22nd January
TIME: 9 – 3pm
AGES: Adults (Under 18's must be accompanied by an adult)
COST: $179, includes all materials and figure
"Mixing Skin Tones" Painting Workshop
Have you ever tried painting skin tones, and wondered why they turn out slightly… off? Mastering this vital element of figurative painting takes time, but you can fast forward your learning in a single afternoon by coming along to this workshop!
In this special workshop experience with Georgina, you will learn how to mix the most basic and easily adaptable skin colour recipe possible. You'll match it to your own skin tones, highlights and shadows, then paint a body or face template. We will also look at possible variations to this recipe for different races, reduced palette or altered colour paintings.
WHEN: Saturday 23rd January
TIME: 1 – 4pm
AGES: Teens & Adults (Ages 16+)
COST: $79, please see booking link for materials list
"How To Make Chain Maille" Jewellery Workshop 
Ever wondered how to make chain maille armour? Or how to make that jewellery with all the linked rings? In this workshop with Georgina, you will learn the basic 4-in-1 pattern of chain maille. This intricate craft will give you a glimpse into simple jewellery creation, without the need for expensive equipment!
You will get your own kit with jump rings and step-by-step instructions to make a little sheet which can be turned into a keyring. In addition, if you love what you've created, there will also be more jumps rings and other kits to make items such as bracelets, earrings and balls available for purchase at the workshop.
WHEN: Saturday 23rd January
TIME: 10am – 12pm
AGES: Teens & Adults (Ages 16+)
COST: $47, includes handouts and jump ring kits
HOST YOUR NEXT WORKSHOP WITH US
We're lucky to have two spaces available here at our school for workshops. We invite local artists, crafters and even those who dabble in digital arts and social media to teach here.
If you would love to teach and share your creative knowledge, contact us and share your workshop idea! We'll help organise the best time for your workshop, and can offer social media marketing packages to promote your workshop for you.
Hire cost:
1 – 4 hours: $45 per hour
4+ hours: $180 total for half/full day hire
Hire of an entire space, either our house studio or large open classroom
Access to kitchen with tea, coffee, fridge and microwave
Use of standing easels and desktop easels
Use of painting equipment (within reason, as organised prior to workshop)
Use of our painting cleanup area
Access to a funky old-school projector
Use of whiteboard and pens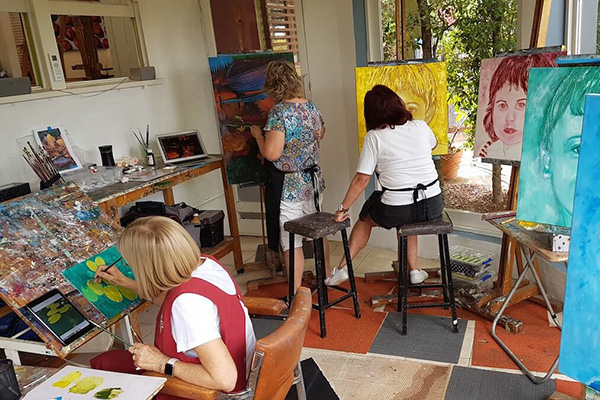 Classes
Find out about our classes for adults, children and teens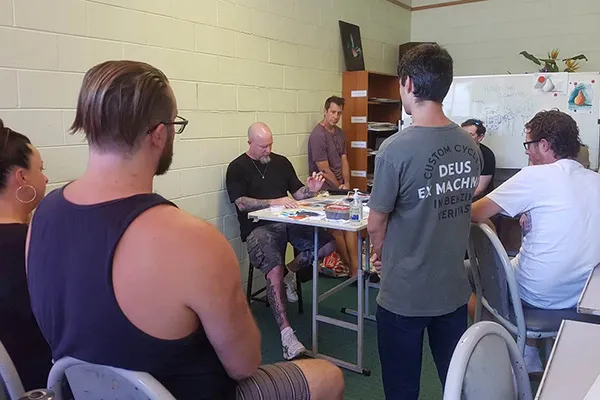 Workshops
Join one of our exciting art workshops, or run your own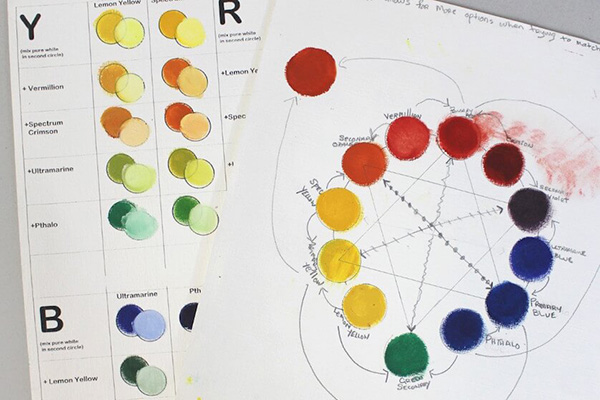 Courses
Learn new art skills with on of our courses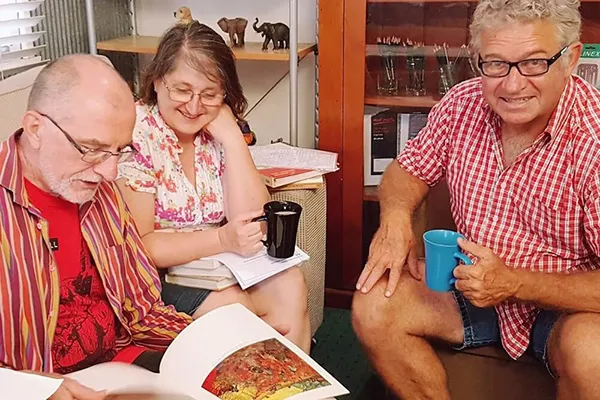 Tutors
Read about our experienced tutors, and school history
Keep Updated
Want to be notified of our latest classes, courses and offers? Join our free mailing list today. No spam, just quality art content from the Gold Coast!