Stephen Buntrock
(Co-Owner & Adult Classes Tutor)
About: Stephen Buntrock studied painting at the Royal Melbourne Institute of Technology, finishing his Diploma of Fine Art in 1969. He has worked as a visual artist in many areas: television, film & theatrical sets and props, graphic design and book illustration and also worked as an art educator at secondary, adult and university levels.
His main interest lies in the development of his personal visual language, in printmaking, works on paper and large scale works on canvas. His mission is to help students find their own visual language.
Since 2002 he has taught drawing and painting at the Gold Coast Art School.
Jessica Buntrock
(Co-Owner & Childrens/Teens Classes Tutor)
About: Jessica has many years of teaching experience, both in Australia and overseas. After gaining her Bachelor of Education in Primary Education, she taught for two years in Yamagata, Japan through the highly competitive JET Programme.
Around 2016, she was invited to teach at The Gold Coast Art School, which she later became co-owner of in 2019. Since then, she has been managing the school, as well as teaching children's and teens classes each week.
Jessica has a strong interest in the visual arts, specifically drawing, painting and ceramics. In addition to her art background, she has 10+ years of video and social media experience. As well as teaching younger students, Jessica would love to help local creatives tap into the online world of promotion and expression. Please feel free to contact her at the school with your ideas.
Natasha Castelijn
(Adult & Children's Classes Tutor)
About: Natasha is an Australian visual artist, living and working on the Gold Coast, Queensland. Her parents have always artistically influenced her, and she has been 'creating' over a range of different mediums including textile from a young age.
In recent years painting has become her expression of choice. In order to enlarge her art practice, she completed a Bachelor of Fine Art and Visual Culture in June 2019. Creating uplifting works through expressing her love of people, colour, texture, emotion and movement is important to her. Her Christian faith also influences all areas of her life, including her art. 
Her youth was spent in and around Sydney but she has since lived in the Blue Mountains, Katherine NT, The Kimberly's and now on the Gold Coast. She loves seeing the diversity in people, a feeling which has been shaped by the many places she has lived and travelled. 
For the past 13 years, Natasha has been employed by Queensland Education. While living in Sydney, she ran community workshops, and now runs a monthly Art Connect Group in Maudsland on the Gold Coast. Many of her works are in private collections.
James Mckay
(Adult Classes Tutor)
About: James has been painting in watercolour for over 25 years and has exhibited his work in galleries throughout Australia and Southern Africa for the last 10 years.
James was born and spent most of his life on a farm in Africa where he started to paint scenes from the farm and African life. Some 20 years ago he moved to make Australia his home, and fell in love with the Australian landscape particularly the old farms, the warm soft colours and the light. This inspired him to paint more seriously.
He paints loosely in watercolour using wet into wet techniques "the faster I work the more feeling the painting has". 
He does a lot of his work on site and is passionate about painting in the great outdoors.
Andrea Rodriquez
(Children's Classes Tutor)
About: Andrea is an experienced art teacher who relocated to Gold Coast, Australia in 2019. She is originally from Mexico, but was previously living and working in Shenzhen, China, where she worked at the International School of Nanshan Shenzhen for 5 years, gaining valuable experience in her role as an art educator for younger children. 
In addition to her knowledge of drawing, painting, fabric arts, stop-motion animation, etc., she has experience with classroom management, parent-teacher communication, collaborating with other educators and planning and implementing curriculum.
Andrea very much enjoys working with children and is excited to work as an educator here in Australia and while also studying online.
Georgina Bignell
(Teens Classes Tutor)
About:
Georgina Bignell has spent far too long at uni studying many things including science, maths, anatomy, and education. Her final degree was a Bachelor of Fine Art (painting major, drawing minor) at QLD College of Art. All this study informs her work. She has a scientific approach to how her materials work and interact, loves playing with what colour can do and has a special interest in human and horse anatomy. Using painting, drawing, printing, photography, digital and sculpture, Georgina chooses the style and medium that best fits the subject matter. Her speciality subjects include equines, invisible illness and playing with colour.
When it comes to teaching Georgina believes in a focus on sound basic knowledge: if you know how your materials work, all the technical stuff becomes automatic and you can focus on creativity. Georgina enjoys teaching students of all ages and skill levels.
Sonia Farrell
(Children's Classes Tutor)
About: Sonia is an Australian artist based on the Gold Coast, working in acrylics and other media, painting intuitively with a splash of realism.  Sonia loves to celebrate and visually express relationships using colour, light and shadows. Discovering a love for creativity about eight years ago, Sonia was a hobby artist while pursuing her career in business and project management. Finally, in 2018, Sonia chose to focus on her art, painting and exhibiting locally and collaborating with other local artists helping establish and run a local art gallery. Sonia's artworks are enjoyed by collectors in South Africa, Australia and Japan.
Sonia has loved teaching art to both adults and children, providing a safe and encouraging forum for students allowing them to build skills, self-confidence and help them discover their creative voice.
Having lived in Africa, New Zealand and now Australia, Sonia has deep spiritual roots and a love for animals – which sparks strong creative and inspirational influences in Sonia's artworks, which range from detailed, layered and complex to minimalistic, intuitive and contemporary.
Sam Gowing
(Children's Classes Tutor)
About: Over three decades, Sam has turned her creative talents to diverse and eclectic projects in Melbourne, Sydney and now in the Gold Coast. After graduating in art in Sydney (COFA) she participated in various group shows, exhibiting painting and sculptural works, and art installations exploring the fragility of self. Her keen interest in the environment and love of the ocean has recently turned this focus outwards to the susceptibility of fellow creatures on this planet. She is an avid whale watcher and, from her hometown of Burleigh Heads, volunteers during the humpback whale migration period to survey and collect information about current numbers and whale behaviours.
In the past 20 years Sam has worked extensively in product development as a freelance graphic designer Sam has taught a variety of art classes to young adults helping them explore sculpture, painting, printing and digital design as well as running workshops for kids.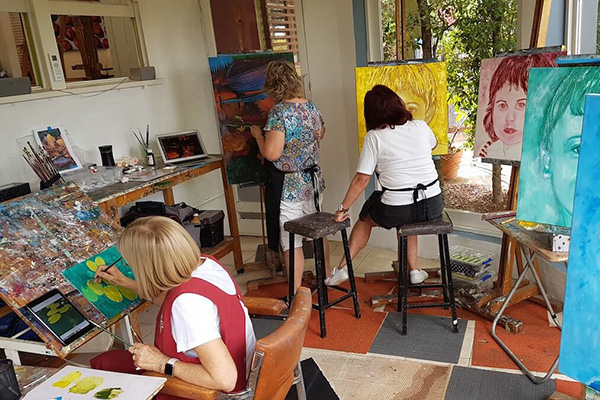 Classes
Find out about our classes for adults, children and teens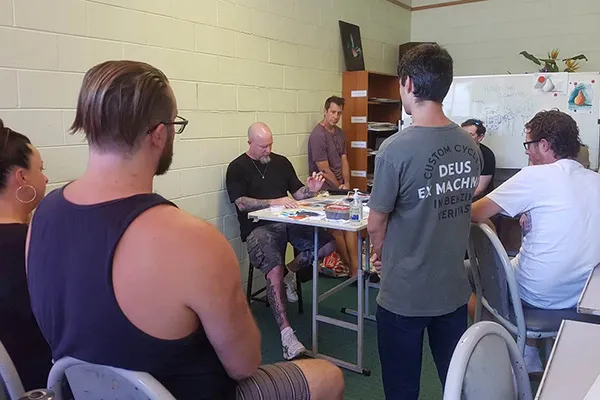 Workshops
Join one of our exciting art workshops, or run your own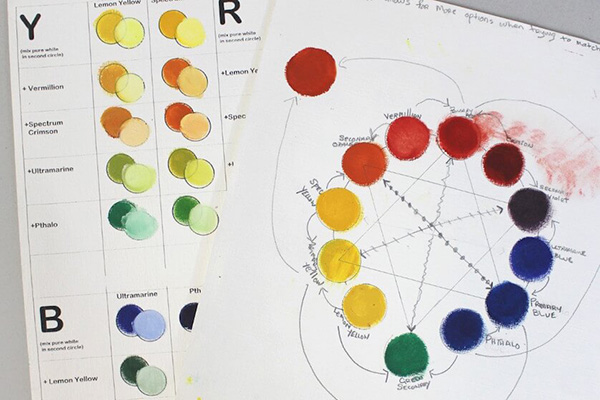 Courses
Learn new art skills with on of our courses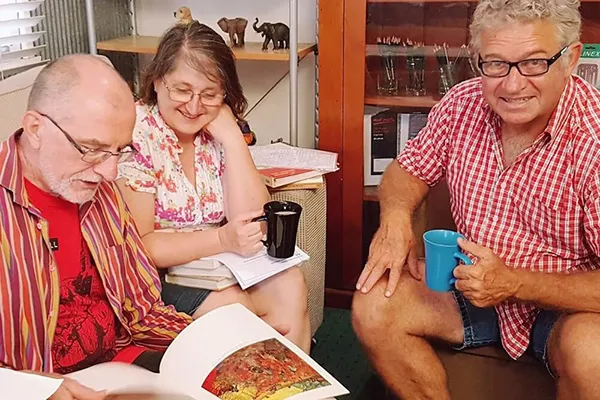 Tutors
Read about our experienced tutors, and school history
Keep Updated
Want to be notified of our latest classes, courses and offers? Join our free mailing list today. No spam, just quality art content from the Gold Coast!